Brooke Burke Enlists Mom's Help For a Night's Rest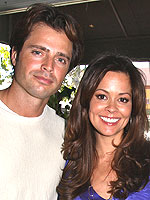 Flynet
With rigorous dance rehearsals and four children in need of attention, Brooke Burke has certainly been feeling the effects of her sleepless nights over the past few weeks! As any mother would, Brooke had hoped that as her 6 ½-month-old son Shaya Braven got older, his sleeping pattern would have him clocking longer nights with less feedings. Unfortunately for Brooke and her fiancé David Charvet, Shaya is a growing boy and is demanding more food during the night! In addition to waking up with their son, Brooke also reveals that since his birth, their youngest daughter Heaven Rain, 20 months, "has been waking up once every night as well," making for a very long evening. After enduring months of not sleeping through the night and dealing with extreme exhaustion, the couple decided to enlist some extra help: Brooke's mom! Says Brooke,
"Last night my mom spent the night and kept the babies for us. David and I took a sleeping pill at 8 p.m. and slept 9 hours! It was heaven and I do feel like a new woman today. I highly recommend getting caught up on your zzzs at least once a week, if you can."
In addition to Rain and Shaya with David, Brooke also has daughters Neriah, 8 ½, and Sierra Sky, 6, with ex-husband Dr. Garth Fisher. On Tuesday, she posted a new blog, writing,
"I am getting desperate for sleep. I'm thinking about asleep nurse to train Shaya and Rain to sleep through the night. I havenever done that with any of my babies, and I'm not sure it feels right …Any thoughts about sleepless nights?"
Source: Baboosh Baby
How did you deal with sleepless nights when your kids were younger?