CSI: NY's Anna Belknap Expecting Second Child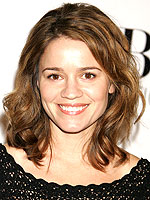 Jeffrey Mayer/WireImage
CSI: NY's Anna Belknap and her husband Eric Siegel are expecting their second child together early next year, the actress has announced. The new baby will join the couple's 20-month-old daughter, whose name has never been publicly released. Unlike her first pregnancy, this one will be written into the show. "They're not planning on hiding it," Anna, 36, confirms. Explains executive producer Pam Veasey,
"[Anna's character] Lindsay will be pregnant. And, clearly, Danny is the father."
Source: Entertainment Weekly and TV Guide
Thanks to CBB readers Alyse and Paulette.