Ugly Betty Costars Dish on Rebecca's Due Date and Downtime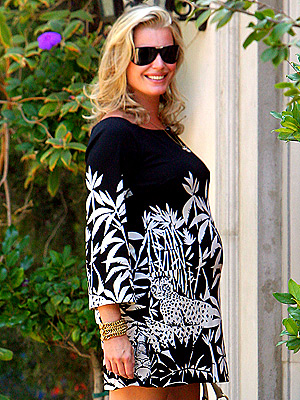 Limelight
If Rebecca Romijn's Ugly Betty co-stars have anything to do with her due date, her twin girls will be born in December! While actress Ana Ortiz is "sure they're going to come sooner," Judith Light reveals that Rebecca is already expecting the twins early arrival. "She's due in January, but she said because they're twins … they might be coming early, maybe December," shares Judith. With recent pictures of Rebecca laying low and visiting friends, Ana says that the 35-year-old mom-to-be has "been off since the end of August, taking it easy." Not wanting to reveal any Ugly Betty secrets, Ana slyly says that "we had to give her a little baby break!"
Vanessa Williams — mom herself to four kids — shares that she has been giving "plenty of advice" to Rebecca including recently, tips on breastfeeding! Confirming Ana's statement that Rebecca is taking it easy, Vanessa goes on to share that she is full swing in the nesting stage. "She can't leave in the next couple of months because she has to stay close to home," says Vanessa. As for any doubts that Rebecca and her husband Jerry O'Connell will be great parents, Vanessa can't think of a better couple to take on parenthood, calling the pair "the most fun, zany parents in California!" Says Vanessa,
"The kids are going to be gorgeous. [Rebecca's] smart, she's talented, she's funny, and she's well-grounded. That's what you need to be to be a great mom and raise great kids."
Rebecca begins partial bedrest on October 1st, according to her rep.
Source: Us