Jim Carrey Says Jenny McCarthy's Son Taught Him a Deeper Love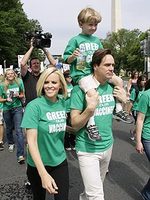 Yuri Gripas/Reuters/Landov
Interaction with an autistic child can be a challenge even when that child is your own, but when it's the child of your girlfriend there is almost certainly extra pressure involved. That's what Jim Carrey, 46, says he learned upon his first meeting with Evan Joseph, the 6-year-old son of Jenny McCarthy, 35, in early 2006. At the time, Evan was completely non-verbal and steadfastly refusing eye contact — leaving Jim in uncharted territory. "I'm a guy who's used to getting people's attention when I want it, and I'm pretty good with kids, so it was a little bit difficult and hard not to take it personally, frankly, at times when I tried my best to play with him," Jim recalled during a recent appearance on The Oprah Winfrey Show.
"He was focused on something else, and I could have been on fire in the room, and he wouldn't have noticed me."
Undeterred, Jim kept at it with Evan and eventually discovered that children with autism "show us how to go somewhere deeper as far as loving." While the dynamic is decidedly different than what he was used to with other children, Jim feels "we have to take our expectation out of the equation and just be there because we want to be there for them." Even on those days where he seemed to be getting nowhere with Evan, Jim said he felt instinctively that walking away would have been a mistake.
"I knew it was something important in my life. These children, we need them more than they need us. They're here for us to learn."
Now, Evan and Jim are exceptionally close. "It's like Star Wars impressions back and forth all day long," Jim shared.
Click 'more' to read about why Jenny finds Evan inspirational.
The biomedical approach to treating autism — which can involve dietary restrictions, vitamin and mineral supplements, and other therapies — is something Jenny credits with her son's recovery, and she challenges skeptics to examine Evan if they are in need of proof. Jenny explained that she discovered the gluten-free, casein-free diet while surfing the Internet, and that she spoke with other moms who had been successful before implementing the changes with Evan. Although the approach is controversial within the medical community, Jenny struggles to understand why. "We're not talking about crazy things," she explained. "It's organic food. It's vitamins. These [are] things that moms are sharing with each other."
Another common misconception about the biomedical approach is that those who advocate it are somehow anti-vaccine, Jenny says. "We are an intelligent group of parents that know the importance of having vaccines." Instead, she feels, the schedule developed by the Centers for Disease Control (CDC) needs to be re-examined, and children should be tested for immune system deficiencies which could compromise their ability to properly process immunizations. "What makes us believe that everyone can handle all the shots, all the time?" she asked. "Let's protect the [children] who are weak…We believe in the protocol, we know we need them, but we deserve safe ones."
Jenny chronicles her journey as an advocate for the biomedical approach and the green vaccines movement in her latest book Mother Warriors: A Nation of Parents Healing Autism Against All Odds. Evan is "amazing," Jenny says, and through his life — and her work — she feels that she's discovered her purpose.
"I know why God gave me Evan. He is a wonderful teacher and an inspiration to the world. It made me who I am today."
In apparent agreement is Jim, who believes that Evan brought out a depth in Jenny that was missing previously. "She became infinitely more interesting to me as a person," he said.
Mother Warriors is available now. Evan is Jenny's son with ex-husband John Asher.
Source: The Oprah Winfrey Show