Matilda Ledger to Inherit Heath's Estate, Father Reveals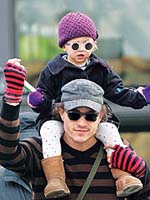 Flynet
When actor Heath Ledger passed away unexpectedly in January due to an accidental overdose, it was revealed that his will had not been updated since his relationship with actress Michelle Williams and the birth of their daughter, Matilda Rose in 2005. Heath's will read that his estate — after his debts had been paid off — would be split between his three sisters, Ashleigh, Kate, and Olivia with the remainder going to his parents Kim and Sally. Although at the time, Kim had said, "Matilda is an absolute priority and Michelle is an integral part of ourfamily. They will be taken care of and that's how Heath would want itto be," it was initially unclear how the estate would be divided. Now, Heath's father has come forth and revealed that his granddaughter will be receiving everything. Says Kim,
"There is no claim. Our family has gifted everything to Matilda. That was the plan from the moment my boy passed away. There wasnever any question about the fact that Heath's estate would go toMatilda. Never a question. We are very close to Michelle and Matilda."
Kim also shared that he and his wife Ines recently returned from a two-week visit to the States to see their granddaughter, telling PEOPLE, "It was lovely. There is no animosity [with Michelle] … We are all just one family."
Heath's estate is estimated to be over $16 million, although a lawyer for the family refused to confirm or deny specific numbers. It was reported back in August that Jude Law, Colin Farrell, and Johnny Depp — who took over the unfinished role of Heath's character in the movie The Imaginarium of Dr. Parnassus — would be donating their earnings from the film to Matilda.
Source: Herald Sun; PEOPLE
Thanks to CBB readers Cecilia, Mary Beth, and MaryAnn.