Ewan McGregor Appreciates Technology – To a Point!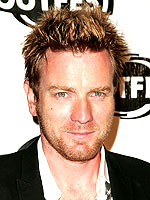 Jason LaVeris/FilmMagic
These days, life for Ewan McGregor has him on his motorcycle touring all parts of the world, including "little walled Nubian villages in the northern Sudan, where you do everything in your power not to hit a donkey or a geep." Enjoying life to the fullest, Ewan has logged almost 40,000 miles on his BMW Adventure bike and admits that he is "in a position where I can do many things most people just daydream about."
While life on the road is wonderful, Ewan — who shares that "being on the bike opens me up emotionally" — says that the "horrible part" of his road excursions is being away from the people he loves most: his family. As the days passed, Ewan missed his wife Eve and their three kids — daughters Clara Mathilde, 12, Jamiyan, 7, and Esther Rose, 6 ½ — tremendously. The family turned to modern technology to help them bridge the gap and bought a satellite phone.
Although the 37-year-old actor admits that he is "not the sort of dad who carries pictures around in his wallet," it didn't mean that Ewan wasn't constantly thinking about his family, saying that the phone was a big relief as he was "able to hear their voices." Luckily for the kids, counting the days until Ewan's trip was over not only meant being reunited with their dad, but also a three-week vacation! Says Ewan,
"We all met up in Kenya afterward, where we had three weeks to go on safari and travel around. It's one thing to come home and tell the kids about something. It's quite another to take them to a Masai village, which was great for them to see. One of my daughters is blonde and it was a real oddity for the Masai. They couldn't stop staring at her!"
Click 'More' to read about why Ewan thinks telling your kids "No" is a good thing — especially when it comes to electronic gadgets!
An extremely successful actor, Ewan shares that although he hearsthe occasional "that's Obi-Wan Kenobi" when he drops the girls off atschool, Ewan and Eve are more focused on being "very conscious aboutnot spoiling them." For Ewan, having polite kids with manners is "essential." He explains that "giving kids whatever they ask for is disastrous parenting."
While the McGregor family look totechnology to keep them in touch while they are separated by thousandsof miles, Ewan is quick to answer that this doesn't mean that he rushesout to buy the newest gadgets for his kids. "I'm sorry, but when you're12 you don't need a new cell phone every few months just because a newone comes out. I'm not going to buy her the latest phone, I'm not goingto buy her an iPod every time one comes out, and I'm definitely notgoing to buy her a pony," says Ewan.
Crediting his attitude towardparenting for having "wonderful, wonderful children," the actor'sadvice to parents worldwide is simple: "Saying 'no' helps." As he goeson to explain that most adults don't understand that if you are lookingto "produce really horrible obnoxious kids, say 'yes' to them all thetime," he laughs that while his kids are well-mannered, that doesn'tmean they are perfect!
"That's not to saymy kids are always angels. Their fascination with fart jokes and thingsabout the bum is astonishing sometimes. But it makes me howl!"
Source: Best Life