David Charvet Connects with Rain and Shaya – Through Puppetry!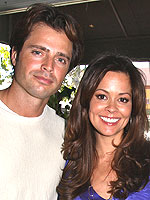 Flynet
With Brooke Burke having survived the first two eliminations on Dancing With the Stars, she is in full preparation mode for this week's show — she's learning the Paso Doble. A strenuous rehearsal schedule beginning bright and early after taking her two older daughters — Neriah, 8 ½, and Sierra Sky, 6 — to school leaves David Charvet at home caring for their two youngest children. For the 36-year-old actor, this special bonding time with Heaven Rain, 20 months, and Shaya Braven, 6 ½ months, has been a perfect opportunity to form everlasting memories, leading David to "realize what is really important in life."
Taking to Brooke's blog for a post of his own, David shares that Rain and Shaya were "laughing, screaming, and giggling" when, in a playful mood, he grabbed "one of my older girls' slipper puppets" and began an improv show. Surprisingly, the simple puppet kept the two kids happily entertained as the proud papa was able to witness what he calls "a moment I will never forget." David says that "this was the first time I saw them holding hands and actually connecting," leaving an everlasting impression as he shares advice with all the working fathers: while raising a family might be hard, relying on a doll is always best!
"Sometimes I try so hard to work and provide for my family, that I forget how much more important these moments are. To all the fathers out there, I know it is hard, but try the slipper puppet game. It's a beautiful way to start your morning!"
To see a recent photo of Shaya with Rain, click here.
Rain and Shaya are Brooke's children with fiancé David; Neriah and Sierra are her daughters with ex-husband Dr. Garth Fisher.
Source: Baboosh Baby
Thanks to CBB readers Bellastar4 and Allegra.