Brooke Shields Explains Rowan's Take on Paparazzi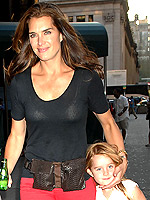 Demis Maryannakis/Splash News
A celebrity for virtually her entire life, Brooke Shields is no doubt accustomed to the paparazzi. For her daughters Rowan Francis, 5, and Grier Hammond, 2, however, the notion of strangers documenting their every move is strange, in and of itself. Brooke recently overheard a conversation between Rowan and one of Brooke's friends, in which Rowan explained that the paparazzi likes to take her picture when she's out and about with mom." "I just died," Brooke recalled during a Friday appearance on Late Night with Conan O'Brien. "I thought, 'Oh God, she has that in her vernacular.' It's so sad that she grows up with that." But when Brooke's friend pressed the point — asking Rowan why the paparazzi take her picture — Brooke said that her daughter's response surprised her even more.
"She said 'Eh, they just want Brooke Shields.' But what was so amazing to me about that was that she separated 'Mom' from 'Brooke Shields.' And she says Brooke Shields like it's one word, it's a thing, and it's this thing that the paparazzi use in some way."
"In her own way," Rowan "kind of justified [the paparazzi]," Brooke noted. What the 43-year-old Lipstick Jungle actress finds most comforting, however, is that in Rowan's mind Brooke "is still on her team with her, as her mom."
"It made me feel that she's probably a lot healthier about it than even I am."
Rowan and Grier are Brooke's daughters with husband Chris Henchy.
Source: Late Night with Conan O'Brien