Rosario Dawson Wants to Adopt Sooner Rather Than Later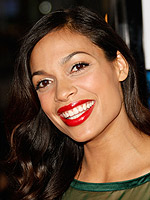 Michael Buckner/Getty
After being adopted herself by her mother's husband, Rosario Dawson has always carried around the idea "in the back of my head" of one day welcoming her own children through adoption. Although it may seem that the 29-year-old actress still has plenty of years ahead of her to think about having a family of her own, Rosario has other plans in mind. Realizing that her mother and her grandmother are "getting older," Rosario is determined that her children will have the chance to grow up with these "extraordinary women" instead of having to know them only through stories. Says Rosario,
"It struck me recently that one day I might be sitting around with my children, going, 'Your grandmother was an amazing woman; I really wish you could've known her.' That makes me sad because it would be a waste not to have these people know each other. Whatever time I have, I want it."
Rosario's new movie, Eagle Eye, hits theaters September 26th.
Source: Latina