Dougie Payne Says Son Has Good Timing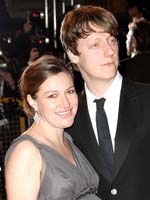 Dave Hogan/Getty Images
The decision by Travis to record their latest album Ode to J. Smith in just two weeks was rooted in both creative and logistical concerns. The band was eager to capitalize on momentum they had built on a recent tour — and capitalize their time with bassist Dougie Payne, who was expecting his first baby with wife Kelly MacDonald. Recalls Dougie,
"The plan was to get the record made before Kelly and I had our baby … I was going to take four months off as paternity leave, so if we didn't get it done before he was born, we wouldn't get it out this year."
In the nick of time, Travis finished recording on March 5th and just four days later Dougie, 35, and Kelly, 32, welcomed their "lovely little man," 6-month-old Freddie Peter. "He's amazing," Dougie says.
Ode to J. Smith is scheduled for release on October 7th. Kelly can currently be seen in Choke.
Source: EDP 24