Tim Robbins Says Son Prefers Him Acting, Not Directing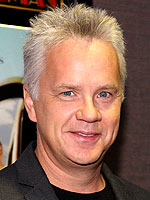 Bennett Raglin/WireImage
It didn't take 16-year-old Miles Guthrie — son of actors Tim Robbins and Susan Sarandon — long to figure out that acting in a movie is a lot less demanding than directing one. When he was about seven going on "ninety-nine," Tim recalls that his son voiced his displeasure that Tim's job of directing The Cradle Will Rock was taking him away from the family. As a result, Tim took a hiatus from the directors chair. "I was really glad I did," Tim, 49, tells Moviehole. "Because he's a really special kid."
"I was spending too much time away. And I'm a lot more there when I'm an actor, for him…Now he's 16-years-old, and he can't wait 'til I'm out of the house. So I'm looking to direct again."
In addition to Miles, Tim and Susan are parents to 19-year-old Jack Henry, as well as Eva Amurri, Susan's 23-year-old daughter from a previous relationship. Tim can next be seen in City of Ember, slated for release on October 10th.
Source: Moviehole