Nicole Forester Announces Pregnancy; Guiding Light Exit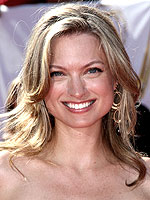 Frederick M. Brown/Getty Images
Guiding Light actress Nicole Forester has announced that she and her fiancé are expecting their first child. Due in February, the pregnancy comes at a perfect time for Nicole, 35 — her contract with the soap has expired and she's decided not to renew to focus on her new life instead.
"I am getting married in October, and I am expecting a baby in February! I am so happy and excited about embarking on these two most wonderful adventures, and I'm so grateful to have some extra time now to embrace them fully."
Nicole joined Guiding Light in November 2005 and took over the role of Cassie Lewis. Her last episode will air in early November.
Source: Soap Opera Digest