Life Imitates Art for Actor Erik Thomson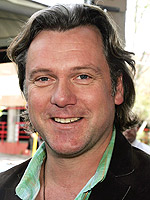 Patrick Riviere/Getty
In the Australian show Packed to the Rafters, actor Erik Thomson plays a father juggling the demands of a full house which includes a daughter in her 20s. While his real life daughter Eilish is just 14 months old, "there are a lot of parallels" between the two, Erik says. "In episode two, there is that scene with Jessica Moray [who plays Erik's daughter, Rachel Rafter] where I tell her that I'll look out for her until the day I die," Erik explains. "That emotion is very much at the forefront for me at the moment because I have a very vulnerable young baby." Still, it was important to Erik, 41, that the part of Dave Rafter "wasn't going to be written as a dad, but rather a man who has children."
"Being in my early 40s and a new dad, my life is my life. I continue to have hopes and dreams for myself. I don't feel like I've suddenly become a stereotype because I have a child."
Instead, Erik says, when you become a dad "a lot of dominos start to fall into place as you understand a whole lot more about a side of yourself that you've never really had before." Part of that new understanding involves a new appreciation of the simple things. Erik says that a "really great" Saturday morning for him includes grocery shopping with Eilish. "[It] sounds mundane but I find it fantastic," he says.
"Because I'm more interested in her well-being I get on with things a lot more. I'm very now and in the moment."
Eilish is the first child for Erik and his wife Caitlin McDougall.
Source: Herald Sun