James Morrison on Embracing Fatherhood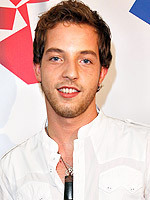 Jon Furniss/WireImage
Although James Morrison and his longtime girlfriend Gill "aren't getting a lot of sleep" since welcoming their daughter Elsie earlier this month, all that time spent awake has at the very least been peaceful. In an interview with GMTV the 24-year-old singer recently revealed that Elsie is a contented baby, and suggested that her demeanor might be tied to his own. "I'm quite relaxed, and so she's quite relaxed." The couple were looking for a "Granny" name, James said, and that's how they decided upon Elsie. "We wanted to pick something that was old-fashioned," he said. "I really like it."
James' new album Songs For You, Truths For Me features several songs inspired by impending fatherhood. While the emotions were something he was at first hesitant to share, he quickly changed his mind.
"I didn't know I was going to do that, I wanted [the baby] to be my private thing. But it's so exciting, such a life changing thing, that you want to embrace it, not hide away from it. So I tried to write about it in a subtle way."
Elsie is the first child for the couple. Songs For You, Truths For Me is scheduled for release on September 30th.
Source: GMTV