Raveonettes' Sharin Foo Welcomes Daughter Molly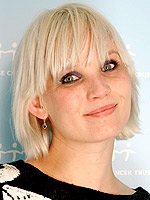 Jo Hale/Getty
The Raveonettes' Sharin Foo is a new mother after welcoming daughter Molly Foo Edwards on Saturday, September 13th. Sharin, 28, who sings and plays bass for the band, posted a short and humorous birth announcement on the Raveonette's MySpace page last week:
"She's a ridiculous beautiful crap factory that won't let me sleep and fills me with happiness."
The Danish pair's latest album, Lust Lust Lust, was released in the US in February, but Sharin sat out the summer tour per her ob/gyn's orders — instead, her sister Louise filled in for her!
Source: The Raveonettes MySpace
Thanks to CBB reader Nicole.