Kirk Cameron: Entertainment Industry Not the Place for Kids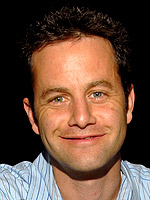 Mark Sullivan/WireImage
Actor Kirk Cameron grew up before our eyes on the television show Growing Pains, and even though it was good for him, he doesn't want the same for his kids just yet. In a new interview promoting his film Fireproof, Kirk, 37, explained, "I don't think that growing up in the entertainment industry is the healthiest place for kids," adding, "the track record kind of shows that."
However, that doesn't mean that his kids can't go into the field, eventually — just not now! Even though all six of his kids "love being silly and goofy," it appears as if one of them — 10-year-old daughter Anna — may just make that jump into entertainment when the time is right.
"Anna is destined to be a singer or an actress. She's got it."
Kirk and his wife, actress Chelsea Noble, are parents to Jack, born in 1996, Isabella, born in 1997, Anna, Luke, born in 2000, Olivia Rose, 7, and James Thomas, 5.
Fireproof hits theaters Friday, September 26th.
Source: MSNBC