Dierks Bentley Enjoys His First Baby Celebration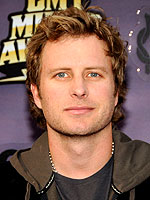 Kevin Mazur/WireImage
Country singer Dierks Bentley is on edge and has his cell phone with him at all times as he and wife Cassidy are expecting their first child this fall. However, the 32-year-old admits that while he is excited, he and Cassidy "don't know what we're getting into." To help prepare the couple, some of Dierks' friends "threw a baby — I wouldn't use the word 'shower,' 'cause dudes don't go to showers — but like a baby celebration-party kind of thing." This came as a pleasant surprise to the pair, as "we weren't really gonna ask for gifts … because we've been really blessed and can get our own stuff." Since Dierks isn't quite sure what he needs for a baby, it's a good thing the celebration was held.
"People brought stuff, [brought] things that you wouldn't even know you needed. My stage manager brought a big box full of random stuff I would never even think of, you know, like some device that pulls … snot out of the baby's nose."
The one thing that the couple does have for their baby is "this little thing called a Moses basket," which Dierks describes as "pretty cool." It will serve as the crib in case the baby arrives before the actual crib does.
Source: GAC TV