Check Out Our Newest Gallery: Rock Star Dads!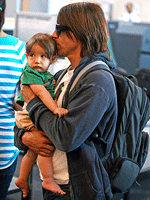 Bauer Griffin
It's Friday, so we've added a new set of photos — Rock Star Dads! From late-night shows to early-morning diaper changes, these loving dads are devoted to their music, as well as their children. Click here to take a look at some of our favorite rockin' pops.
Keep an eye on the top right side of the site to see the newest photos.And you can come back to this story to post your comments!