Byron Allen Welcomes Daughter Chloe Ava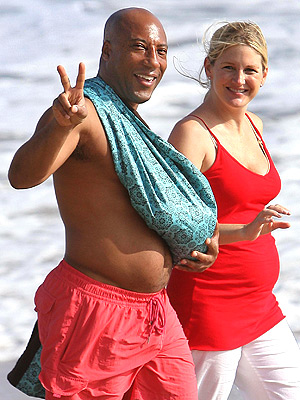 Louise Barnsley/James Breeden/Pacific Coast News
Former Real People and current Entertainers with Byron Allen and Comics Unleashed, Byron Allen, 47, and his wife, producer Jennifer Lucas, have welcomed their first child. Daughter Chloe Ava Allen arrived one week early on Friday, August 22nd at 2:15 p.m. She weighed in at 7 lbs, 14 oz and was 17 inches long.
In a statement, the proud dad tells PEOPLE exclusively, "We couldn't be happier. Our bundle of joy is simply amazing." Jennifer, 36, adds, "Chloe's absolutely precious. I'm so in love with her. We are incredibly blessed."
The couple, who married in September 2007, announced the pregnancy in April. Jennifer's due date would have been August 29th. At left, the couple are pictured taking a beach walk with Chloe over Labor Day weekend.
Source: PEOPLE