Brooke Shields Says Career Makes Her Appreciate Family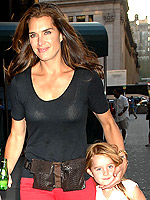 Demis Maryannakis/Splash News
There are some similarities between Wendy, the high-powered studio executive in NBC's Lipstick Jungle, and Brooke Shields, the actress who portrays her. So says Brooke in a new interview with Monsters and Critics, noting that while both women are mothers, Wendy's children are "in very different stages" than her own daughters Rowan Francis, 5, and Grier Hammond, 2. If there's one area where the lives of actress and character definitely intersect, it's in their efforts to do it all — with varying degrees of success.
"I think that that's an important thing that we're saying [on the show]. You know we're not saying, 'Oh, women can have it all and still be glamorous.' You can want it all and I think it's very empowering to go for it all. It's just there's always going to be a certain little bit — there's going to be a cost every day in some area."
For Brooke that cost, temporarily at least, comes in the form of husband Chris Henchy — who stayed behind in California when his wife and daughters relocated to New York. The situation is far from ideal but Brooke, 43, says that she and Chris "work it out." "I don't think it ever feels balanced, but we're trying," she explains. While career isn't as important to Wendy as her family, it is important to her overall happiness. It's a sentiment Brooke says she "can identify with."
"My career is so much a part of who I am. It's a huge motivator in my life — it has been for years…[Wendy] is a more self-realized and actualized person when she has her passion and her own focus in her life and it allows her to have perspective of her family. I mean I appreciate my family so much more because I also have something that's just my own."
Click 'more' to read about a typical day for Brooke.
A typical day for Brooke sounds quite grueling. "I finished work this morning at 5:30 am and then had to go home, not sleep because that would have been dangerous, get breakfast, get the girl's up," she reveals. "I took Rowan to school, had a teacher's conference, and came back…then I got to sleep for a couple of hours" before returning to the set. "I'm not complaining, but it's just the nature of the way I don't want to give anything up," Brooke says. That approach, while admirable, can sometimes make life more difficult — but Brooke feels it's worth it.
"Instead of going on Thursday to Los Angeles in the afternoon to get there comfortably before doing Leno on Friday, I've got to be at a school — my daughter's school. So I'm going to be taking the last flight out [on Thursday night] and probably getting less sleep. But I won't miss the school event. Every day there's a different set of challenges … and it's just a matter of showing up for all of them."
Source: Monsters and Critics