Sharon Stone Never Lost Custody, Court Clerk Made Mistake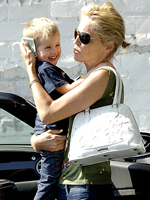 London Entertainment/Splash News Online
Update: According to Sharon's lawyers, the actress never lost joint custody of Roan. Instead, the clerk made a mistake in writing the court papers as it states that Phil would have "sole physical custody," but goes on to say that "custody, visitation, holiday, and vacation schedule shall remain in place as outlined" in a previous court appearance. Sharon's lawyers released a statement that reads,
"The court order of 2007 provided that Roan was to go to school in San Francisco. [Sharon] wanted the court to modify the order so her child could go to school in Los Angeles. But the court felt that, for whatever reason, that she did not meet a burden to move him out of San Francisco during the school year. She thought it was best at this young age that she had these two younger children to have her older son be with them and the court didn't want to modify the order. She loves her son and felt it would be better to have her child in Los Angeles."
Originally posted September 23rd: Sharon Stone has lost custody of her oldest son Roan Joseph following a September 12th court appearance. The court has ruled that the 8-year-old's father, newspaper editor Phil Bronstein, has been granted "sole physical custody of [the] child," a decision the judge calls permanent unless circumstances change in the future. No clear motivation for the decision is known, other than the "court finds that Respondent [Sharon Stone] failed to meet her burden of proof." Minutes from the meeting explain,
"The court does not find that [a] move away is in child's best interest. [Phil Bronstein] can provide a more structured continuity, stable, secure, and consistent home that child, Roan, needs."
Roan currently lives with his father in the Bay Area, where he attends school. The court ruled that he will remain with Phil unless Sharon relocates to San Francisco or Phil chooses to move. The court minutes reveal that Sharon "shall have access to [the] child," and her phone number "shall be programmed into the child's telephone and home phone."
Sharon and Phil divorced in 2004 and had shared joint legal and physical custody of their son as of last year, reports Entertainment Tonight. The 50-year-old actress is also mother to sons Laird Vonne, 3, and Quinn Kelly, 2.