Rachel Weisz: One Parent Works at a Time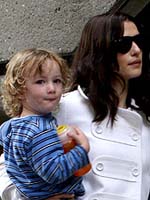 Todd G/Splash News
What once used to be a simple, quick decision is now much more difficult as Rachel Weisz finds herself weighing the options before accepting a movie role. She must keep in mind the two most important people in her life: fiancé Darren Aronofsky and their 2-year-old son Henry Chance. Balancing between her own career as an actress and Darren's career as a director, Rachel admits in this month's issue of Vogue that "things get complicated when you have a child."
The couple's policy that "we both can't be working at the same time" was put to the test this summer when Rachel accepted a role, but later had to drop out due to conflicts with her husband's schedule. For the 37-year-old working mom, dropping out was a sacrifice she was willing to make for her son, much like her decision to not return for The Mummy: Tomb of the Dragon Emperor. Explains Rachel,
"I never even read the script because it was going to be, I think, five months in China, and it was just out of the question that I could do it straight after The Brothers Bloom."
Rachel's new movie, The Brothers Bloom, is set for release in December.
Source: Vogue