Michelle Monaghan's Delivery Surprise a Boy?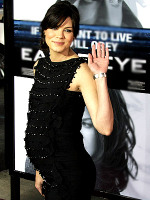 Tony Wise/London Entertainment/Splash News Online
Opting not to discover the sex of the baby she's due to deliver in late fall has had some unexpected fringe benefits, said Michelle Monaghan during a Wednesday appearance on The Ellen DeGeneres Show. "Honestly, I think it's saving us money," the 32-year-old Eagle Eye actress explains. "Because I'm not, like, buying things up a storm." Michelle revealed that she and husband Peter White have "a few names" picked out but nothing is yet set in stone. "We're going to wait to see the baby and then we'll decide," she said.
While the couple "don't want to know" whether that baby is a boy or a girl, host Ellen DeGeneres did her best to predict the answer by trying out a number of popular gender predicting wives' tales on Michelle. First, she asked Michelle to show her her hands, and Michelle initially responded by holding out her hands with palms facing down. Then, Ellen asked her to pick up a key, and Michelle did so by grabbing the round end. Lastly, Ellen dangled a ring on a string over Michelle's hands and it began to slowly rock back and forth. If the wives' tales are to be believed, all three indicate that Michelle and Peter are expecting a son!
Clearly pleased by the news, a beaming Michelle smiled and said "I'm crazy about boys, so that's great."
Eagle Eye is in theaters Friday.
Source: The Ellen DeGeneres Show
Did you try out any wives' tales while pregnant? Which ones? Were they correct?