Jamie Oliver Offers Tips for Getting Kids to Eat Well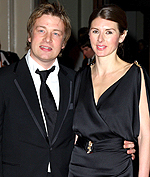 Mike Marsland/WireImage
With famed chef Jamie Oliver for a dad it's no wonder that Poppy Honey, 6, and Daisy Boo, 5 — his two daughters with wife Juliet 'Jools' Oliver — "have always eaten well." Jamie, 33, tells WebMD magazine that he considers himself "lucky," however, that the girls "got used to trying loads of new things when they were younger, so they got a taste for different flavors and textures." Jamie notes that "it's harder as kids get older," and if you find yourself routinely engaging in battle at the dinner table he has some advice.
"If you persevere and don't get upset if they won't try new things the first time, eventually most kids will get into new tastes."
Jamie and Jools recently announced that they are expecting their third child in April.
Source: WebMD
What's your trick for getting healthy food into your kids?