Dezi Inherited the Loud Gene, Says Jaime Pressly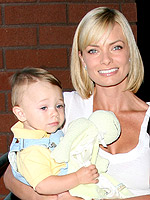 Andy Fossum/Startraks
In a Wednesday appearance on Late Night with Conan O'Brien, Jaime Pressly dished on life with Dezi James Calvo, her 16-month-old son with fiancé Eric Calvo (aka DJ Eric Cubiche). Noting that "the Pressly genes are very strong," the 31-year-old My Name is Earl actress said that the baby boy has "big blue eyes and dirty blonde hair" just like his mom. Dezi also "unfortunately" inherited Jaime's skin tone, she jokingly complained to Conan. "I didn't have a mixed baby for nothing."
"Eric is very, very, very dark. He's Cuban with an olive complexion. Dezi came out looking like you [Conan]. It's pretty crazy! Although he does tan really well."
Father and son — who "speaks Spanglish up a storm" — do still have some things in common, however. Jaime said that Dezi's roots are evident every time he speaks! Cubans are "very loud," Jaime explains. "You think when they're speaking to each other in Spanish they're mad, but they're really just saying, 'Hey, do you want to go get a cup of coffee?'" A native of North Carolina, Jaime feels that Southerners tend to speak the same way, "yelling everything" and just generally being "very boisterous." Put the two together, and it only makes sense that Dezi would be "really, really loud" according to Jaime.
"So that kid is just like 'MOMMY' all the time. And I'll be standing right next to him. He means no harm. He just wants a cup of Cuban coffee."
The new season of My Name is Earl premieres tonight at 8 p.m. on NBC.
Source: Late Night with Conan O'Brien