Jada Pinkett Smith: Will Has the Best of Both Worlds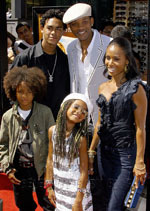 Splash News
Declaring herself always "ready to take on the world," Jada Pinkett Smith says her attitude toward life became even more true when she welcomed her two kids — Jaden Christopher Syre, 10, and Willow Camille Reign, 7 ½ — with husband Will Smith. "Once my children came into this world, I was like 'There's nothing more precious than these human beings,'" says the 37-year-old actress. The decision to have kids with Will — and to have two successful actors in the family — makes Jada realize that the "superstar" is definitely her husband and knowing that her "priority is my family," keeps life on the homefront balanced.
Over the years, Jada and Will have openly discussed their blended family with Will's son Trey, 15, and his ex-wife Sheree, believing that a healthy environment for the kids makes for a happy family. For Jada — who is famous for her 7-Up cake — there is no other option but to have the whole family together to celebrate the holidays as she shares that Will really does have the best of both worlds!
"It's cool because Will's ex-wife cooks really well — so we all spend Christmas together — and she cooks macaroni and cheese and creamed corn and I do my little 7-Up cake, so Will's happy! I told him, 'You made two good choices: one who can bake and the other who can cook!'"
Jada's new movie, The Women, is in theaters now.
Source: Mirror