Infant Son of Buccaneers' Matt Bryant Passes Away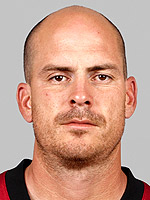 Getty
Tampa Bay Buccaneer kicker Matt Bryant and wife Melissa suffered the unimaginable early yesterday morning, when their 3-month-old son Matthew Tryson Bryant died in his sleep. Coach Jon Gruden announced the sad news following the team's practice on Wednesday, informing reporters that the baby — who went by Tryson — "just didn't wake up this morning." In a statement issued later in the day, Matt, 33, said the couple were "overcome with the amount of support" they had already received from community members since their son passed away.
"Tryson enriched our lives for the short time that he was with us and we will never forget his smile. We know Tryson's death has deeply touched the community and we appreciate the love and prayers from our Buccaneers fans."
A spokeswoman for the Hillsborough County Sheriff's Office says that there was nothing suspicious about the death; Melissa was getting the couple's six children ready for school when she went to wake the baby and found him unresponsive.
Along with his parents,Tryson is survived by his siblings Daniel, Jacob, Joshua, Madison, and Tre, 2 on Monday. The family asks that any memorial contributions be made inTryson's name to March of Dimes, 405 North Reo Street, Suite 105,Tampa, FL 33609.
Sources: ESPN; TBO.com; Tampa Bay; ABC Action News
Thanks to CBB reader Jennifer.