Clay Aiken Shows Off Son Parker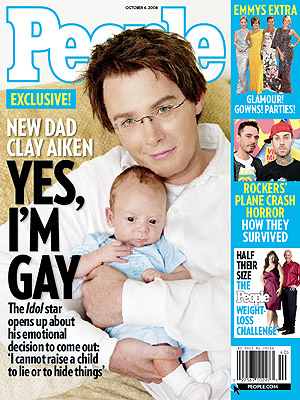 Michael Lavine for PEOPLE
Update: We've added more from the interview, as well as a photo of Clay, Jaymes and Parker in the extended post.
Originally posted September 24th: Six weeks after welcoming his first child, son Parker Foster Aiken, singer Clay Aiken shows off his baby boy — and comes out of the closet — in this week's PEOPLE.
Once the American Idol alum, 29, and best friend Jaymes Foster learned they were expecting, Clay made the choice to come out as a gay man, telling PEOPLE, "It was the first decision I made as a father. I cannot raise a childto lie or to hide things. I wasn't raised that way, and I'm not goingto raise a child to do that."
Out to his mother for four years, Clay understands that althoughmany had an idea, some fans will be shocked — either by his becoming afather or by his coming out. "Whether it be having a child out ofwedlock, or whether it be simplybeing a homosexual, it's going to be a lot," Clay explains. '[I hopethey] know that I've never intendedto lie to anybody at all. The truth is I didn't answer questions. If Ifelt that I was lied to, I would probably be upset … [But] it's notlike I just became gay. I was when I was 18 — I just wasn't tellingthem. The fans, if they leave, they leave. But if they leave, I don'twant them toleave hating me."
As for his son, conceived via in vitro fertilization with Jaymes, 50, Clay — who's currently appearing in Spamalot on Broadway — hopes to raise his little boy in an accepting environment.
"I have no idea if he'll be gay or straight. It's not something I'llhave anything to do with, or that he'll have anything to do with. It'salready probably up inside the code there … No matter what thesituation you're in, if you're raised in a loving environment, that'sthe most important thing."
Click 'More' for an additional family photo, plus extra highlights from Clay and Jaymes' interview.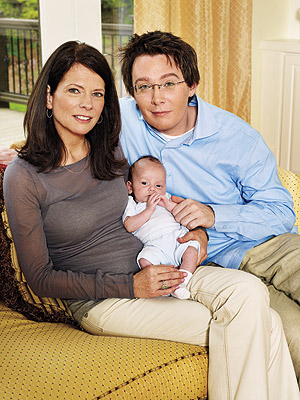 Michael Lavine for PEOPLE
On deciding that they would have a child together:
C: Well, she's always known that she wanted children, but her ex-husband did not want children. I grew up working with kids. I taught special ed. Babies? I'm learning. I always wanted kids, and as a gay man, it's just not an option. I mean, obviously there were other options, but let me put it this way: I had always dreamed of it, but never really saw it as a possibility until this happened. I don't really remember whose idea it was. It was one of those things where we were both thinking of it at the back of our heads.

J: I really think I was not ready to have children – well, I know I wasnot ready to have children, be a mother – in my 20s or 30s. I had thefreedom then to travel the world and have a wonderful career. I believeat this point in my life it's the right time, and I think because it'sthe right time, I'll hopefully do a good job. If I don't, Clay will beall over me!
On the pregnancy:
J: Ithought I'd be one of the lucky ones that didn't get the nausea, thatI'd sail right through the pregnancy. But unfortunately I had it thewhole time! I dealt with it on my own until I found out that there is agreat new medication that helps eliminate the nausea, which I took theentire pregnancy. But other than that, it was really a breeze.
On parenting together:
J:He's an incredible caregiver. As far as changing the diapers and seeingwhat's wrong with [Parker] and getting him to go sleep, Clay's anatural and he's really, really good with that. On a larger scale, he'sthe perfect person. He's been a school teacher, we have the samemorals, family is very important to him and Parker means everything tous.

C: I'm better at changing diapers. I don't think Jaymes gets it all — although I may take some skin off!

J: It's funny because we were both very relaxed from the minute he wasborn. But the one thing I'm a little nervous about is clipping his handnails because I think I might cut him, so Clay definitely has a handleon that and takes care of that. [Parker] doesn't like baths so much, soI tend to do the bathing because he kind of cries through that so I'vetaken that on as a job. Clay would be happy to do that, but I justfigure, okay, if he does the nails, I'll do the bath.

We love each other dearly and deeply as friends, but I think as parentsnow, there's an even greater bond, certainly for me. Our job is toremain best friends for the rest of our lives and that's the mostimportant thing for Parker.
On the public reaction to their unconventional situation:
C: There are plenty of people who will say this is completely unorthodox and "How dare they." I have people in my family, people I know, who — sexuality aside — did not like the fact that I was not married. My mother knows about me, but that I was having a child out of wedlock was a big issue for her. She had to come to terms with it.

At the end of the day, people are going to dislike it, and I hate that. But I'm not going to be somebody who tells them they're wrong.
Source: PEOPLE