Rapper T.I. Ordered to Pay More Child Support, Granted Joint Custody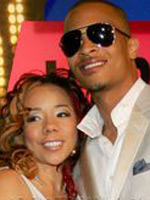 Ethan Miller/Getty Images
Update: A judge has ordered that T.I. increase his child support payments to slightly more than $3000 a month. In addition, the judge ruled that T.I will continue to pay the children's private schooling, uninsured medical bills, and any extracurricular activities. While Lashon will maintain primary physical custody, the couple will now share joint custody. Although Lashon still has discrepancies over the amount of child support, her rep says,
"Every little bit helps. She was just getting by with the children, while they lived a different life with their father. It can't be complete opposites on the other side."
Please click 'More' to read the original posts on the matter.
Posted September 15th: T.I. and his attorney have responded to the allegations in a lengthy statement. In part, T.I. says,
"A lot of deceiving information has been reported regarding my recent child support proceeding. It is unfortunate that the media has been used to manipulate the circumstances and distort the facts. Those that know me, all know that there is nothing more important to me than my children. I have always supported all of my children financially, emotionally, and spiritually. This has always been the case and I will continue to do so in the future as this is my responsibility as a parent.

To clarify the recent reports, in addition to the $2000 per month I pay in cash to Lashon Dixon, the mother of my sons Domani and Messiah, I also pay for their private schooling, medical insurance, clothing, food, gifts, birthdays and extracurricular activities. Their extracurricular activities have included football, basketball, baseball, acting lessons, summer camp, and any other activities that they express a desire to be involved in that will contribute to them leading balanced lives and developing into well rounded individuals. I have also made an attempt to help Lashon with additional payments that have included a down payment to purchase her home, purchase of an automobile for her transportation and other financial obligations. These expenses are documented and are far in excess of the $2000 cash payment that is being paid direct to Lashon. She has chosen not to work and to live 100% from her child support receipts. This is the reason for her difficulties in making ends meet for herself.

Not only do I support my boys 100% financially, I am also committed to their emotional and spiritual growth. While I would enjoy the luxury of being present for all of my children's activities, unfortunately the demands of my career and the need to secure my family's financial security as well as insuring my kid's personal growth dictates that I travel constantly and work tirelessly. Despite my hectic schedule, I make it a priority to be present for important occasions in their lives. This includes being home for their birthdays, school functions and being present at as many of their extra-curricular activities as I am able. I also am available to them at all times to provide guidance and support as a father regardless of my schedule or location. They are my first priority.

Again, there is nothing more important to me than my children. This is demonstrated by my effort to support them in every way that I can. Any reasonable person knowing the facts would conclude that all of my children's needs are being far exceeded. My support of them in every way is documented and cannot be legitimately challenged.

I believe that it is every parent's responsibility to provide unconditional love and support for their kids. I have made every attempt to do so for my boys. Again, I provide 100% of their financial support. I should only be judged for my actions and not Lashon's conscience decision not to work and not to contribute to the financial support of our boys."
Originally posted September 11th: Clifford Harris — better known as rapper T.I. — is being sued by ex-girlfriend Lashon Dixon for an increase in child support. The current agreement has T.I. paying $2,000 a month to Lashon in order to help with their sons' — 8-year-old Messiah Ya'Majesty and 7-year-old Domani Uriah — expenses, but according to the 29-year-old mother, she is no longer able to provide for the boys based on this income. Lashon is hoping that, with a court order, the judge will rule on a figure relevant to the 27-year-old's successful career.
In addition to Messiah and Domani, T.I. is father to Clifford "King" Joseph III, 4, and Major Philant, 3 ½ months with his fiancée Tameka 'Tiny' Cottle, with whom he also had daughter Llayah Amour, who passed away shortly after her birth in 2007. Additionally, he is dad to daughter Deyjah from a previous relationship.
Source: AP