Poppy Montgomery Ate Her Way Through Pregnancy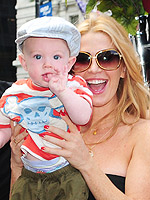 Albert Michael/StarTraks
Some actresses spend their pregnancies clutching over-sized purses to conceal their growing bump, but not Poppy Montgomery — and she couldn't be happier about it. When the producers of Without A Trace agreed to write her pregnancy into the show's plot, she decided to make the most of the situation! "I was like, 'Great! Ben & Jerry's for breakfast, Ben & Jerry's for lunch, Ben & Jerry's for dinner,'" she said Tuesday on Live with Regis and Kelly.
All the ice cream came at a price, however — Poppy gained 67 pounds while carrying son Jackson Phillip Deveraux, 8 months. "I ate, like, everything," she admits. "I would have eaten my desk if I could have fit it into my mouth." When Jackson arrived, Poppy says she feared "he was going to weigh at least 15 pounds," but he was instead a healthy 7 lbs, 4 oz. The weight gain was ultimately a price worth paying. Of Jackson, Poppy, 36, said "he's the love of my life" — and in a separate interview with The Early Show she called motherhood "amazing," proclaiming, "I'm in love with my baby boy."
Jackson is the first child for Poppy and her boyfriend Adam Kaufman.
Sources: Live with Regis and Kelly and The Early Show
Click 'More' to watch Poppy's appearance on The Early Show!