Kelly Ripa Says Choices Are Key with Her 'Mini-Me'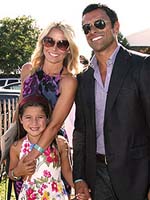 Fame
In a recent interview with WebMD magazine, actress Kelly Ripa reveals that her two sons with husband Mark Consuelos — Michael Joseph, 11, and Joaquin Antonio, 5 ½ — are "forever happy" to see their mom. The same can't always be said for the couple's 7-year-old daughter Lola Grace, however! Noting that "girls do love to press your buttons," Kelly's own mom Esther Ripa feels that her daughter and granddaughter butt heads because they are "exactly the same." While Kelly admits that Lola "challenges" her, she's learned that by simply offering her daughter a choice, the friction can be lessened.
"With Lola, everything is up for debate. Everything is a conversation. First thing in the morning, it's a major discussion about what she's going to wear. I've learned to give her limited options: 'You can wear this or this.' That's what works best."
The 37-year-old Live With Regis and Kelly co-host says she's even had to set ground rules with Lola for when it's permissible to disagree with mom, and when it's time to just do as she's told. "This is New York," Kelly notes. "There could be a terrorist attack. And I can just see me having to debate with Lola about why we have to leave right this minute. I've literally had to say to her: 'Honey, if there's an emergency, you don't have the liberty to argue with Mommy, OK?"
The boys — despite being described by their mom as "snuggly and cuddly" — have had their moments as well. Michael screamed that he was being kidnapped once when Kelly tried to remove him from a toy store. "He took everything I'd taught him about what to do in that kind of situation and used it against me." Joaquin decided one night to hide under his bed long after his parents thought he'd already gone to sleep; the family searched their New York apartment frantically and were about to call 911 when he finally turned up. "I was shaking, I was so relieved — and so angry, too!" Kelly recalls.
Click 'more' to read about Kelly's parenting philosophy and why she feels kids are "consistency junkies."
When she's being tested and needs some advice, Kelly says she looks no further than Esther and Mark's mom. Among the lessons she's learned? People who engage in power struggles with their children need to remember "to be a parent and not a friend," and "doing the easy thing in the short term makes it harder in the long run," Kelly says.
"Giving in when you want to say 'no' quiets things down momentarily, but you'll just have more of the same — and then some — down the road."
Calling children "consistency junkies" who need "schedules and parameters," Kelly explains that in any given situation she tries to let the kids know "exactly what to expect." As a result, Lola, Michael and Joaquin understand that their parents "love them no matter what — and they also know that 'no' means no," she says. Despite having the "best pregnancies," Kelly says she wound up with the "worst deliveries" — C-sections for each child, even though she had preferred a natural birth. The shock of unplanned surgery didn't compare to the shock of life with a newborn, however.
"With Michael, we knew nothing. Around the time he was born we'd just bought one of those widescreen TVs, which were new and all the rage then. And we walked out of the store with, like, a 6,000-page manual on how to work the thing. The hospital, on the other hand, gave us a one-page leaflet that said stuff like, 'When the baby is hungry, feed him. When he's tired, put him to bed.' Incredible, right?"
Eleven years later, and she appears to have the hang of things. Despite her busy career, Kelly jokes that she runs her family like a cruise ship — "shuffleboard at 5!" — and enjoys keeping Mark and the kids informed of "what's happening, all the time." She also likens her house to the Centers for Disease Control! "I'm all about containment," she says. "We keep things really clean, really neat." Her approach is rooted in self-preservation; during Michael's first year of school, Kelly suffered from pinkeye six times. "Now, it's prevention, prevention, prevention: We do supplements, probiotics, you name it," Kelly says. Despite the hard work of motherhood, Kelly says the payoff is huge.
"Sometimes Mark and I see these little faces around the breakfast table and we just look at each other and think, 'How did we ever make something so beautiful?' Our kids — well, they're our hearts."
Source: WebMD