Fisher-Price Rainforest Healthy Care Booster Seat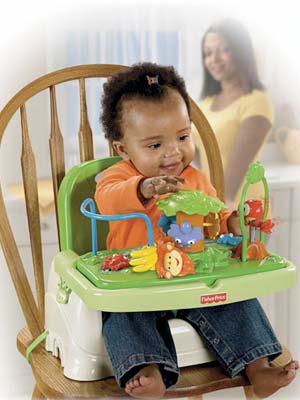 Fisher-Price Rainforest Healthy Care Booster Seat
If your child is ready for a feeding booster seat or you're looking for an alternative to the traditional high chair, Fisher-Price's Rainforest Healthy Care Booster Seat ($33) works at home or on the go. An upgrade to their popular Healthy Care Booster Seat, this version comes with a removable rainforest toy that snaps into the child tray. It's very lightweight — just 4 lbs for the booster seat and tray and almost 1 lb for the tray toy. It can easily fold up for travel — just attach the back connection strap to sling it over your shoulder. The seat has 3 heights, an adjustable 3-point harness, and wipes clean easily.
You can set this booster seat up in about 2 minutes. To attach the booster seat to a chair, loosen the back and bottom straps, buckle and then tighten the straps snugly. If you choose to use the tray, just snap it on. To take it off, just lift the tabs on either side of it.
The rainforest toy was effortless to put together- the three big pieces quickly snapped in. The spinning bugs, sliding gecko and frog, flipping monkey and banana bead and a parrot will amuse both babies and toddlers. My baby batted at the toys, while my toddler enjoyed playing with the different animals. Before using with a baby, make sure the baby has good head control and can comfortably sit up. As your child gets older, you can use it without the tray and lower the seat.
— Nancy