Dennis Quaid Says Twins Will 'Change The World'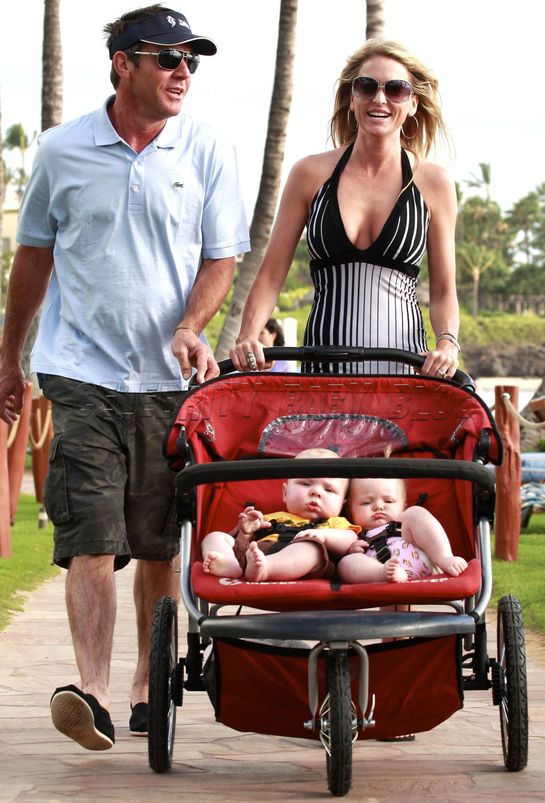 Flynet
If everything happens for a reason, Dennis Quaid and Kimberly Bufffington Quaid found their purpose on November 20th, 2007. That's the day their then 12-day-old twins Thomas Boone and Zoe Grace, now 10-months, received a potentially fatal overdose of the blood thinning drug Heparin. Although the twins appear to have made a full recovery the 54-year-old actor notes that "no one knows the long-term effect of the dose they received." In an effort to bring some good from the ordeal and to shine a spotlight on ways to minimize medical mistakes, the couple has established The Quaid Foundation. "There's a real problem going on and it needs to be addressed," Dennis says. "I just don't want to see something like this happen to someone else's kids."
"It made the media because I am in the movies, but a lot of people responded. Because of how fragile [the twins] were, a lot of people really got it. I think maybe people felt if it happened to a family like ours, it could happen to anyone."
Among the safety procedures advocated by The Quaid Foundation is bar coded medication administration, implemented in just 13% of the nation's hospitals, whereby nurses and physicians carry out a series of bar code scans and checks before giving a drug to a patient. Dennis and Kimberly feel that it could have spared them from their heartache, for the twins Heparin overdose occurred only after health care workers missed five opportunities to verify the dosage. The Quaid Foundation also pushes for legislation that would preserve the rights of the injured to seek legal action if they are the subject of a medication error. Whether the Quaids reach one family with their message or many, Dennis predicts that his twins "are going to change the world."
In addition to Thomas Boone and Zoe Grace, Dennis is dad to 16-year-old Jack Henry, with ex-wife Meg Ryan.
Source: WebMD