Victoria Beckham Teaches Sons the Importance of Hard Work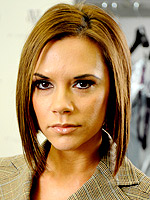 George Pimentel/WireImage
Contrary to rumors of a lavish lifestyle, the three sons of Victoria and David Beckham — Brooklyn Joseph, 9 ½, Romeo James, 6, and Cruz David, 3 ½ — are routinely told 'no,' says their mum. "We're very strict with them," Victoria tells The Sun. "We treat them now and then but they're not the kind of kids who have everything they want when they want." For example, Victoria reveals, the boys "don't get anything" if they fail to say 'please' and 'thank you.' The couple also routinely point to their own successful careers in their efforts to instill a good work ethic in their children.
"They know that if I'm away or David's away, that Mummy and Daddy are away working, because that's what you have to do if you want nice things and have nice holidays. You have to work hard for it."
Describing her sons as "really nice, well-behaved kids who sing and dance all the time," Victoria says that Romeo is "really, really into his clothes" and would "wear a suit every day" if she let him. Cruz, on the other hand, is still enjoying his breakdancing as well as wearing costumes; during Victoria's interview, he even turned up in a cowboy outfit, prompting the 34-year-old fashion designer to joke "he loves dressing up at the moment — I just don't know where he gets it from!"
While she "would like another child," Victoria says she is "not even trying to get pregnant at the moment."
"I don't want another baby for two years because I'm working so hard on my fashion business. I haven't got time."
Source: The Sun