Nicole Kidman Spellbound By Motherhood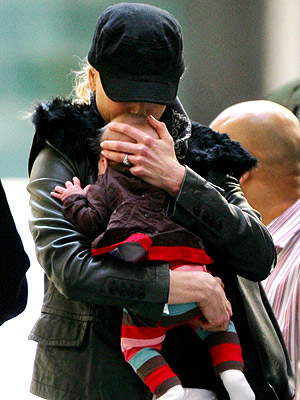 Flynet
Shooting the epic Australia in remote sections of Western Australia brought its fair share of misery — including everything from oppressive heat to torrential rains to even a case of equine flu that temporary robbed the film of its horses. In a new interview with The Australian Women's Weekly, however, Nicole Kidman reveals that it wasn't all doom and gloom on set. "Seven babies were conceived out of this film and only one was a boy," the 41-year-old actress explains. "There is something up there in the Kununurra water because we all went swimming in the waterfalls, so we can call it the fertility waters now." That Nicole became pregnant with her own baby — 11-week-old Sunday Rose, with husband Keith Urban — during the shoot was very much a surprise.
"I never thought that I would get pregnant and give birth to a child but it happened on this movie. Nothing happened in a small way on this film."
Nicole — who feels "lucky" to be tall, which she credits for her ability to carry "small" — reiterated earlier statements that her pregnancy ended with an easy delivery. "I have to say, I had a birth that I was blessed with, a labor that was very good and a baby that was very good to me in that regard." Already mom to 15-year-old Isabella Jane and 13-year-old Connor Antony with ex-husband Tom Cruise, Nicole is quick to give credit where credit is due. "They say that [an easy labor] is genetic, so I'm grateful for that because it was beautiful and Keith was my rock through it all." Calling motherhood "exhausting" and "spellbinding" all at once, Nicole adds,
"To be given this again is a beautiful thing. To have raised Bella and Connor since I was 25 and now to be able to do it again at 41…Wow!"
Australia is slated for release in November.
Source: News.com via The Australian Women's Weekly