Daisy 'Is Brilliant,' Says Proud Mom Meg Ryan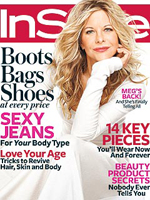 Courtesy InStyle
In the October cover story for InStyle magazine, Meg Ryan opens up on her divorce from Dennis Quaid, her decision to temporarily step away from the entertainment industry, and rediscovering motherhood in her 40s. Of the latter, the now 46-year-old actress reveals that her decision in early 2006 to become mom to 3 ½-year-old Daisy True never felt like an adoption. Instead, Meg says, "I feel like I just got this unbelievable companion." She adds,
"As mysterious and magical as it is to have a baby you gave birth to, I have that exact same thing with Daisy. I feel like we made some agreement, long ago and far away, to meet in the way we did."
Whether it's making astute observations about her mom or bossing around her 16-year-old big brother Jack Henry — from Meg's marriage to Dennis — Daisy is a force to be reckoned with! Calling her daughter "brilliant," Meg adds that Daisy "says things every day that make you just stop and stare at her."
Meg's latest movie, The Women, is in theaters now.
Sources: Entertainment Tonight via InStyle