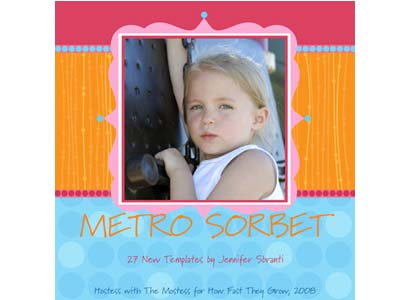 How Fast They Grow Metro Sorbet template
Our friends at How Fast They Grow have just launched 81 yummy new pagesby Jennifer Sbranti of Hostess with the Mostess fame. You mayrecognize her work from Max Sutter's Birthday Bash that his mom Trista Sutterplanned with Jennifer. The look, says Cathy Bennett, mom owner, is"uber hip, fun and edgy," which will appeal to moms of babies on up toteens and 'tweens. The three design themes that roll out this week areappropriately named "Metro Sorbet," "Mod Squad" and "Mostess Days."Who ever thought scrapbooking would be so cool? And, at 7 minutes apage, easy and fun? How Fast They Grow has already caught on withcelebrity moms Samantha Harris, Trista Sutter, and Dayna Devon.
CBB Deal: Save 15% with coupon code HWTM1 through October 15, 2008.