Gwen Stefani Says Boys Look Best in Diapers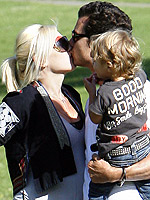 Pacific Coast News
Gwen Stefani always looks great, whether she's nine months pregnant or two weeks postpartum. The 38-year-old songstress tells Parents.com that while she doesn't have any "style secrets" per se, she does dress to impress — many, many people! "I try to look the best I can for myself and my husband [Gavin Rossdale], but knowing that every time I leave the house I'm going to be followed by a zillion paparazzi is a little inspiring too." Just because Gwen loves to go all out with her own wardrobe doesn't mean that that enthusiasm extends to her two sons Kingston James McGregor, 2, and Zuma Nesta Rock, 4 weeks, however.
"Honestly, my favorite thing is when they're just wearing diapers. I think that's when they look the best!"
Of her firstborn, Gwen goes on to share that Kingston counts The Jungle Book as his favorite bedtime reading material, and that he "basically likes anything that has elephants in it."
Source: Parents.com