Constance Zimmer Heads Back to Work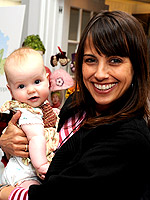 Shawn Ehlers/WireImage.com
As any working mom knows, it's tough when the time comes to head back to the office, as it's usually the first time a new mother and child are away from each other for an extended period. Entourage actress Constance Zimmer realizes her maternity leave with 8 ½-month-old daughter Colette Zoe has been longer than most, but that doesn't make it any easier, especially when she's crossing state lines! Constance has signed on for the film Demoted and will need to travel to Detroit, Michigan where the movie is being filmed. Instead of moving her family there for the duration of the project, Colette will be staying in California with dad Russ Lamoureaux, while Constance, 37, films for nine day stretches, then returns home for a few days before making the flight back to Michigan. Reflecting on her decision, Constance explains,
"Everyone says you've got to do it at some point, so this is it … If I was gone for three weeks I'd explode. I wouldn't do that."
Entourage airs Sundays at 10 p.m. on HBO.
Source: National Ledger