Brooke Shields 'Ambushes' Jonas Brothers for Daughter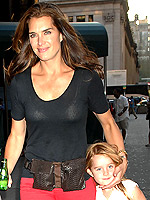 Demis Maryannakis/Splash News
The tables of fame were turned on Brooke Shields recently following a trip to a Jonas Brothers concert with her 5-year-old daughter Rowan Francis. During an appearance on The Tonight Show with Jay Leno, the 43-year-old Lipstick Jungle actress says that for the first time it was she who was in the awkward position of fumbling with a faulty camera while a celebrity looked on. As she and Rowan waited to "ambush" the boys as they exited the venue, Brooke says she snapped into action. "I'm like blocking the door, because it's my daughter and I'd kill for her, and I'm like 'You're gonna take a picture with my kid.' So I put her in front of them and of course I go to take the picture and the camera doesn't work," Brooke recalled. "I'm one of those people now." When asked by Jay whether Rowan is old enough to appreciate the Jonas Brothers, Brooke said that her daughter has "a crush" on the group — though no member in particular.
"I don't even think she knows which one [she has a crush on]. It's just sort of the boys in general. A Jonas."
It was an eventful summer for Rowan, for she — along with 2-year-old little sister Grier Hammond — also visited Disney World for the first time. Brooke says she wasn't afraid to use the trip for leverage around the house, either! "If one of them wasn't eating their peas, I'd say, 'Do you want to meet Mickey? Eat your peas. Do you want to meet Mickey? Go to bed,'" Brooke joked. "So I used Mickey, because you know, using a national treasure is a good way to teach your children." From the sound of things, all the veggies and early bedtimes had a big pay off for the girls.
"We got there, and Rowan … goes, 'Oh, this is so amazing mom. I'm looking everywhere, I wish I had eight eyes.' So it was a hit."
Rowan and Grier are Brooke's daughters with husband Chris Henchy. The new season of Lipstick Jungle premieres Wednesday at 10 p.m. on NBC.
Source: The Tonight Show with Jay Leno