Britax Boulevard CS: Click and You're Ready to Go!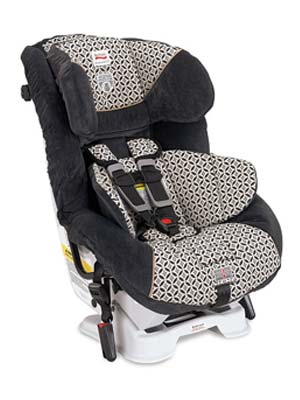 Britax Boulevard CS in Riviera, available only at Babies R Us
The Britax Boulevard, one of the safest car seats, has just gotten safer. Introducing their new Click & Safe feature to the new Britax Boulevard CS ($329.99 at Babies R Us), the convertible car seat gives parents an extra level of reassurance that their child is buckled in safely with two improved features that add just $20 to the cost.
Responding to statistics from the National Highway Traffic SafetyAdministration that found 59% ofharness straps to be dangerously loose and complaints from kids thatthe harness was too tight, Britax developed this new feature. The riskof a too-loose harness strap is a serious on e- as Laura Jana, M.D.,pediatrician, child passenger safetytechnician, Britax spokesperson, and mother of three, told me, "Theharness straps serve the veryimportant, and ultimately life-saving purpose of keeping childrenproperly positioned and secured in their child safety seat. If thesestraps are not properly fastened or are loose at the time of a crash,children run a greater risk of being ineffectively restrained or evenejected from their seats – putting them at much greater risk of injury."
— Danielle