Britax Boulevard CS: Click and You're Ready to Go!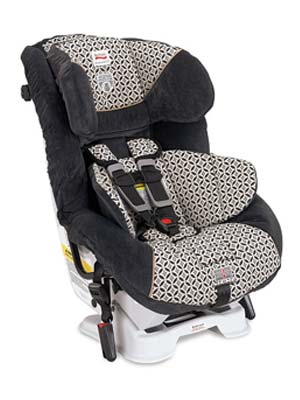 Britax Boulevard CS in Riviera, available only at Babies R Us
The Britax Boulevard, one of the safest car seats, has just gotten safer. Introducing their new Click & Safe feature to the new Britax Boulevard CS ($329.99 at Babies R Us), the convertible car seat gives parents an extra level of reassurance that their child is buckled in safely with two improved features that add just $20 to the cost.
Responding to statistics from the National Highway Traffic SafetyAdministration that found 59% ofharness straps to be dangerously loose and complaints from kids thatthe harness was too tight, Britax developed this new feature. The riskof a too-loose harness strap is a serious one- as Laura Jana, M.D.,pediatrician, child passenger safetytechnician, Britax spokesperson, and mother of three, told me, "Theharness straps serve the veryimportant, and ultimately life-saving purpose of keeping childrenproperly positioned and secured in their child safety seat. If thesestraps are not properly fastened or are loose at the time of a crash,children run a greater risk of being ineffectively restrained or evenejected from their seats – putting them at much greater risk of injury."
After clicking the buckle in and pulling the harness straps taut,the parent will hear a click when they are tight enough. A Britaxrepresentative suggested that you can tell your child that it's nottight enough till you hear the click. That's what we've been tellingAnya whenever she complains and it's sort of working so far.
Answering another important issue in child car safety, that 25% ofall car accidents that involve kids happen from the side and result ina higher injury rate than other types of crashes, Britax addedadditional protection. The Boulevard CS also features Britax's True Side ImpactProtection™ which purports to transfer energy away from the child during a side impact collision by way ofenergy-absorbing foam over a stiff structure to distribute crashforces, side walls that shield the child from intruding objects, deephead wings and sides for head and body containment, and an adjustablehead restraint to minimize side-to-side head movement during a crash.
Another great feature that I also love is the quick-adjust headrestand harness, which my Marathon does not have. It allows you to raisethe height of the straps without having to rethread the straps (whichrequires you to unLATCH the seat and then of course, reLATCH it).
Like the original Boulevard, the new Boulevard CS accommodateschildren rear facing from five to 35 pounds and forward-facing childrenfrom at least one-year-old and 20 pounds up to 65 pounds. The Rivierais exclusively available at Babies R Us, but in October, independentand specialty stores will begin carrying the Boulevard CS in BerkshireTan, Davenport, Lauren and Cowmooflauge.
— Danielle