Appaman: The Celebrity Favorite Expands Line to Include Denim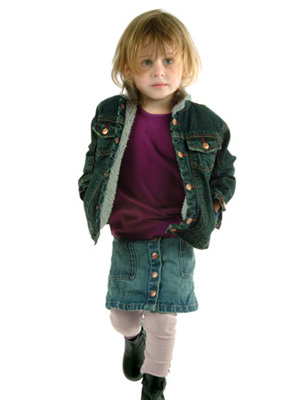 Appaman Dark Denim Jacket
As I have mentioned many-a-time (read my most recent review here), Appaman is one of my favorite clothing lines for kids. Since we, like most everyone else, are always pairing the brand's shirts with jeans it only made sense that the line would eventually expand to include denim.
The denim collection, which has just made its debut, is a complete line which also includes
outerwear. Favorites include the Dark Denim Jacket, the Railroad Mini Skirt and a great Jumper. The base cloth on the denim is very soft so you can put this on a baby as young as 6-months and not worry about the material being irritating. And of course all the hardware is stamped with the Appaman signature monkey!
If denim just isn't your thing don't fret because you can still find updated versions of old favorites like tees and dresses. Also making their debut this fall, Appaman Leggings and an awesome Puffy Jacket. I especially love the leggings because they are made of the same soft cotton as the tees (read: they wash well) and have three buttons down the side so they are not just plain. Pair them with a cute Appaman tee or, do like I do because my daughter won't wear tights and put them under a skirt or dress.
Appaman has long been a favorite of celebrity parents including Angelina Jolie & Brad Pitt, David and Victoria Beckham, Kate Hudson, Mariska Hargitay, David Arquette and Courteney Cox-Arquette, Chris Martin and Gwyneth Paltrow, Ed Burns and Christy Turlington Burns, Michelle Williams, Patrick Dempsey, Sheryl Crow and Liv Tyler.
CBB Deal: Use code APPAMAN10 for 10% off at psychobabyonline.com. (Expires 10/31/08.)
— Teba