Lance Bass Talks Marriage and Future Children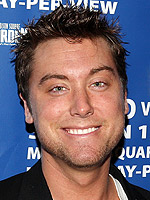 Andrew H. Walker/Getty
Although someday he would like to marry and have children, former NSYNC star Lance Bass is content with being the first openly gay dancer — celebrity or not — on Dancing With the Stars, premiering this evening on ABC. Adding that he believes that everyone "dreams of that nice romantic wedding," he hopes that his day will come soon, although his dancing shoes are currently his main focus!
Weighing in on the current celebrity trend to both adopt and have biological children, Lance, 29, said that he would like to follow that path (celebrities who have both biological and adopted children include Angelina Jolie and Brad Pitt, Steven Spielberg, Mia Farrow, and Meg Ryan, among others). Saying that he "loves kids," Lance added,
"I want to adopt and I want to have my own."
Source: Ninemsn