Fatherhood is 'Magical,' Says Kyle MacLachlan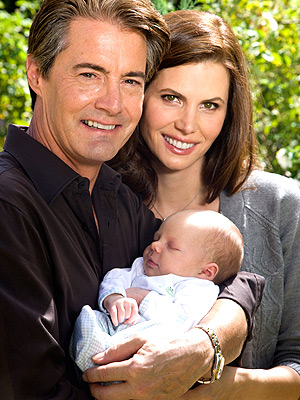 Greg Gorman for use on CBB
Calling his 8 ½-week-old son Callum Lyon "pretty adorable," Kyle MacLachlan says that he is adjusting to first-time fatherhood just fine. While filling in Friday as co-host on Live with Regis and Kelly, the 49-year-old actor admitted that while he was skeptical of other parents who promised him that having a baby would change his life, he was happily proven wrong. "It does [change you], from the inside and in a way that you really can't describe," Kyle says. "It is a magical, magical thing." When co-host Kelly Ripa likened parenthood to a scene in How the Grinch Stole Christmas where the Grinch's heart grows, Kyle agreed, saying that his heart grew "ten sizes" the day Callum was born. "That's exactly how I feel, because I was kind of green and Grinchy before," Kyle joked. Of newborn babies, he added,
"You just want to grab them and hold them to your chest and absorb them into your body."
Kyle's wife Desiree Gruber, 41, made the trip to New York City with Callum, albeit on a different flight than Kyle. Mother and son traveled by red eye, which Kyle said worked out perfectly as Callum slept the entire way. "A little peep on the way up, a little peep on the way down, and he was okay," Kyle shared. "[Desiree] just had him on the breast and he was fine." Speaking of nursing, Kyle revealed that "breastmilk is like gold around the house."
"One time there was a spill of a partial bottle [of pumped milk] and it was tragic. That stuff is hard to come by!"
Source: Live with Regis and Kelly