Charlie and Jackie Haas Welcome Daughter Taylor Suzanne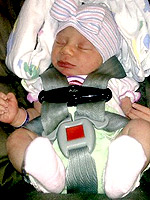 Courtesy Jackie Haas for use on CBB
Update: Jackie tells CBB that Taylor was 19 3/4 inches long and was born at 2:04 p.m. Everything went as planned and Jackie and Taylor were released from the hospital the following day, Thursday, September 18th. Click 'More' for additional photos.
Originally posted September 18th: It is another girl for WWE superstar Charlie Haas, 36, and his wife, Jackie Haas. The couple welcomed daughter Taylor Suzanne Haas on Wednesday, Sept. 17th. She weighed 7 lbs, 1 oz and joins big sister Kayla Jacquelyn, 21 months.
Jackie, 26, recently shared with CBB that she was more than ready to welcome the new addition and had been staying in shape by running. Now that Taylor has arrived, you can be sure that Jackie can't "wait to hit it harder than ever and pound out those miles that I know my body misses."
Source: Monday Night Mayhem via Rajah
Thanks to CBB reader Ashley.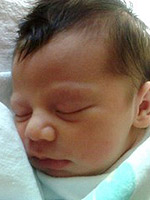 Courtesy Jackie Haas for use on CBB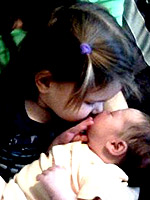 Courtesy Jackie Haas for use on CBB