Alice Temperley Welcomes Son Fox London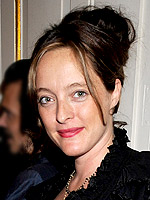 Dave M. Benett/Getty
It's a boy for British fashion designer Alice Temperley and her husband Lars von Bennigsen. The couple welcomed son Fox London Temperley von Bennigsen Mackiewicz on Saturday, September 20th at 9 a.m. in London. Alice and Fox are both "happy and healthy," according to a representative from the Temperley London press office.
"Having successfully returned to London to show the Temperley London spring/summer 2009 collection on September 15, only five days prior to giving birth, it has been an eventful but wonderful time for the designer and first time mother."
The couple announced the pregnancy in March and opted for a delivery surprise. Fox was born on his due date.
Source: Vogue