The Radio Flyer Pathfinder Wagon: A Modern Update on the Classic Red Wagon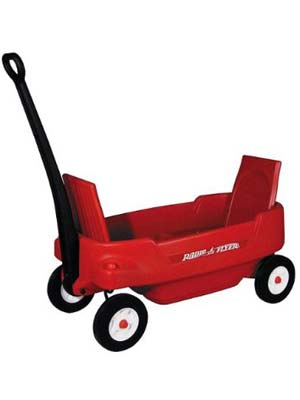 Radio Flyer Pathfinder Wagon
The Radio Flyer Pathfinder Wagon ($79.99) maintains the classic style of RadioFlyer while providing modern-day safety and convenience for you andyour little riders. We purchased this for my daughter's firstbirthday and have come to love it just as much as she does. Althoughmy husband and I often prefer wooden and natural material toys, thedurable, lightweight plastic adds to the functionality of the thiswagon.
Designed with safety belts, cup holders, and two contouredseats that fold flat and flip up individually, this wagon providesversatility, safety and comfort. The front wheels swivelindependently making it easy to turn on all terrain and the ergonomichandle folds underneath the wagon to make it more compact for storageand transporting in the car. This wagon is not only a greatalternative for kids who do not like to ride in strollers, if you cankeep your kids out of it long enough, you'll likely find it's alsogreat for toting many other items, especially when you consider the150 lb weight limit.
The only thing that would make the Radio FlyerPathfinder Wagon better is a canopy ($29.99), which is sold separately andprovides much needed shade and UV protection on those hot summer days.
Available at Amazon (with free super saver shipping),Target.com, and many other online and brick and mortar retailers.
— Elena