Clay Walker Dedicated to Being a Dad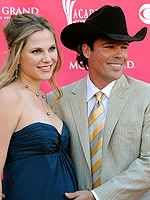 Charley Gallay/Getty Images
Although singing pays the bills, Clay Walker is dedicated to being a father first. That's why even though his daughters MaClay DaLayne, 12 ½, and Skylor ClayAnne, 9, live 2 ½ hours away with their mother, Clay makes the trip several times a week so he can pick up his daughters from school because "that was the one thing I promised myself" when he divorced his first wife. "Divorce is not easy for people, and it's really some place that I never pictured myself," says Clay, who is now adjusting to the fact that his daughters will soon be hitting the teen years. He isn't quite ready for his daughters to date, but knows it will happen sooner than later.
"They're already starting to develop their little crushes. They think the boys are cute. Not cute, excuse me. They're hot. I'm like, OK, this is pretty scary. But I'll deal with it."
The 39-year-old also knows that boyfriends will only be the least of his worries stating that "they are at the age right now where they think they know everything" and he has "to balance it with 'OK, they're going to have their own faults and their own ways of doing things" so Clay takes it "issue by issue." The country star loves his daughters and was thankful when he and wife Jessica welcomed their son William Clayton six weeks ago, an experience which made him "realize God made your heart big enough to hold all the love."
Source: AZ Night Buzz