New Mom Leslie Segrete Blogs for Graco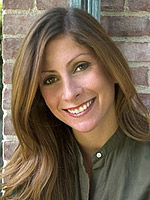 Phillip Friedman
New mom Leslie Segrete, who appears on TLC's While You Were Out and Trading Spaces, recently welcomed her first child, Henry. Now, she's adding blogging to her resume, guest-writing for one of our favorite sites, the Graco Blog. Here's an excerpt from her latest entry:
What is your favorite part about being a Mom?
Well, it's only been a short amount of time, but I have to say everything.Had I known how much I was going to fall in love with this snugglylittle man, I would have become a mom ages ago. Everything about Henryis perfect — I know every parent says that but we all must reallybelieve it's true. He is just super adorable and every day there hasbeen something new to discover about him. Right now he is into smilingat his parents, which we, of course just eat up — whatever he wants hecan have it!
What was your latest wondrous moment with your child?
Well we recently reached a huge milestone. I hate to even talk about ittoo much for fear of jinxing it. With a bit of work over a week andhalf we got our son to sleep through the night! He goes into bed aftera bottle, bath, massage and story at about 8:30 p.m. and sleeps untilabout 11 p.m., then has a very sleepy bottle before snoozingaway until 7 a.m.. Man, what a life he has. Did you notice I wrote bottle,bath, massage and story; if only everyone could end each day this way!